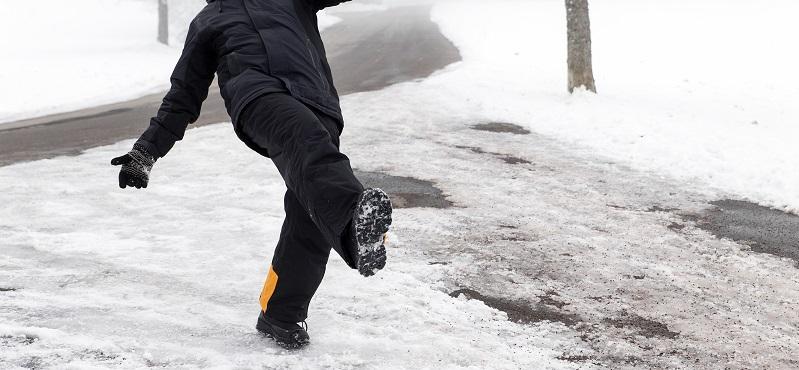 In general, Illinois state law does not favor the victim of a slip-and-fall involving ice or snow. There is no liability for a property owner who fails to remove snow or ice from their property. In order to have an actionable claim against a property owner for a slip and fall involving ice or snow, a Plaintiff must show the property owner aggravated a natural condition or that the accumulation of ice or snow resulted from an unnatural condition. Hornacek v. 5th Ave. Prop. Mgmt., 2011 IL App (1st) 103502, 959 N.E.2d 173.
A natural accumulation of snow or ice is the result of natural weather conditions. Snow that has been compacted down via foot traffic or vehicular traffic still constitutes a natural accumulation. Further, water accumulation inside of a building caused by pedestrian foot traffic will most likely be considered a natural accumulation of ice/snow/water and is therefore unactionable.
There may be an actionable claim where the slip-and-fall on ice or snow results from a property owner aggravating a natural condition or creating an unnatural accumulation of ice, snow, or water. An example of an unnatural accumulation of ice is found in Hornacek v. 5th Ave. Prop. Mgmt. In that case, the property owner hired a snow removal company to remove snow from its parking lot. In doing so, the snow removal company piled massive amounts of snow against the north wall of the building. Over time, the sun would melt the snow pile and result in water pooling in various spots throughout the parking lot. These puddles of water would freeze at night and created the unnatural accumulation of ice the Plaintiff in that case slipped on.
Another example of a potentially viable claim would be a characteristic of the property that causes an unnatural accumulation of ice (such as a downspout that causes rainwater to pool on a walkway or driveway). The Plaintiff carries the burden of establishing the cause of the accumulation was unnatural. As these determinations are very fact intensive, any victim of a slip-and-fall on ice should consult with an attorney to discuss the likelihood of prevailing in a cause of action against a property owner.